Even if organizations were following Employee Wellbeing Trends before the pandemic, it needs revamping.
All corners of employee wellbeing have gone for a toss after the pandemic hit every industry. HR Leaders are continuously trying to bring innovative solutions around employee wellbeing through technology, counselors, yoga sessions, teams fun activities, and weekly check-ins. Still, after almost 2 years of working from home, various data show that employees are still concerned about their future of work.
This Job Openings and Labor Turnover Survey released by the U.S. Bureau of Labor Statistics reports: The employee quit rate spiked to 2.5 (March 2021) to 2.8 (April 2021) from 2.3 (July 2020). The numbers then dropped by a little to 2.5 in May 2021 only to shoot up again to 2.7 in July 2021.
SHRM 2021 data shows that more than 40% of U.S workers are either already scoping for new employment or thinking to do it in a minute. This is also a two-times increase in the rate from 2019. The reasons stated are that most of the workers were not able to cope with the pandemic-related pressures and the managers weren't able to handle the challenge well. In fact, 56% of employees are thinking about new jobs due to their HR managers.
According to SHRM 2021 surveys, the most common reasons for employees decamping their current jobs are:
Compensation – 53%
Work-life Balance – 42%
Benefits – 36%
Career growth opportunities – 33%
Career change goals – 33%
A survey by Mindedge Learning presents these two big concerns as to the work culture in companies during a pandemic:
Among the major employee-related worries of HRs, 38% falls in Employee Health & Safety and 19% (the second-highest) in increasing Employee Turnover rates.
As a measure to tackle the insurgence of stress in employees due to the pandemic, 62% of the participant companies are planning to introduce stress-reducing benefits, yet 61% have not yet offered any training in remote work.
In this Human Resource Executive article, Jan Bruce, CEO, and co-founder of digital workforce solutions platform meQuilibrium explains the biggest challenge and expectations HRs will face in 2022. He says Companies' productivity and profitability will be hampered if employers don't pay attention to employee wellbeing. He also predicts employers will initiate steps to better employee wellbeing to cut consequential costs, check attrition, and successfully manage a post-pandemic change.
And for this, he says employers will take a data-driven understanding to proactively tackle the issues.
Solutions To The Problems
So, according to the surveys and reports are the current employee wellbeing trends that are serving to be the solution to the problem:
Gartner Says 2/3rd Organizations have Introduced New Wellness Benefits to Support Employees' Mental and Emotional Well-being.
According to Gartner, 68% of organizations introduced at least one new wellness benefit by late March 2020. As employees struggle to live within today's new normal, leading to an increased amount of stress and anxiety, HR leaders must support employees
Even before the pandemic, Gartner research revealed that 45% of well-being budget increases were being allocated to mental and emotional well-being programs To further support employees' mental health and emotional well-being during the COVID-19 outbreak, Gartner suggested HR leaders to consider incorporating the following strategies:
Focus on A Holistic Approach : Focus on employees need
Maximize the Impact of Existing Offerings : Maximize and Analyze Impact of current programs
Look Beyond Employee Assistance Programs : Don't go for checklist approach and do tick-mark activity
Organizations have already realized and are on the path of employee wellbeing trends. No wonder the Global corporate wellness market is estimated to reach $87.3 Billion by 2026.
And as I am wiring this blog today, Garner has tweeted that the focus of HR leaders towards business priorities needs rethinking in 2022. From @Gartner_HR: https://gtnr.it/3n96wGf #GartnerHR #CHRO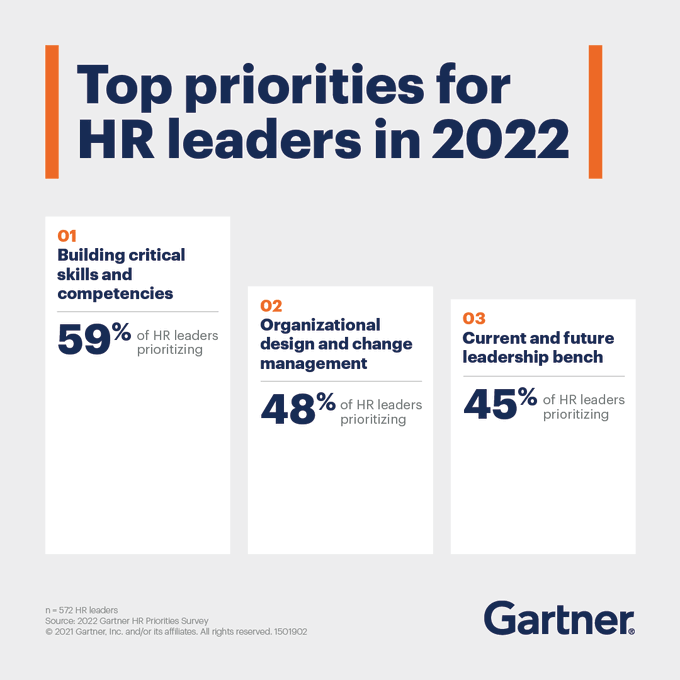 With the pandemic hitting hard on us for the past 2 years now, we need to understand the importance of wellbeing and when we talk about wellbeing overall wellbeing of an individual plays a very important role to function in its full capacity and be productive. Forbes lists these 7 pillars of Holistic Employee Wellbeing:
Pillar 1: Physical Wellbeing – From waking up with morning stretches to sleep-time yoga and best sleeping position; from exercise to diet; from between-work exercises to ergonomic sitting arrangement for productivity and health boost, the physical wellness approach demands to be all-encompassing.
Pillar 2:  Career Wellbeing – After facing bigger challenges during a pandemic than that of a stable job, employees are now more determined to work in conditions suitable to their needs. They are also looking for better career growth and learning. These make them more bent towards looking for opportunities that fulfill requirements facilitating career growth and learning.
Pillar 3: Financial Wellbeing – Among many other things Pandemic jolted us into realizing that we should always be geared up for emergencies. Financial preparedness is not just having a plan for regular expenses like daily, monthly, yearly, it is to be in a condition where personal/family emergencies don't make us helpless and desperate. The need for financial-wellness awareness and tight planning for it is vital. Companies should take an approach to not only help employees with such situations but also prepare them with the how-tos of good financial management.
Pillar 4: Social Wellbeing – Interpersonal relationship in a social environment is important for most humans to operate at a sane level. That's why when the pandemic started to distance us socially the impact was on our mental wellbeing too. Even during lows in our work trajectory, colleagues kept us going. Therefore, even in this time when employees prefer to work remotely to maintain a better handle on their family and personal lives, at least creating a social atmosphere virtually or sometimes physically when safe can help add a push.
Pillar 5: Community Wellbeing – Involving employees in the well-being of a bigger level like their local community and the planet will give them a feeling of purpose and achievement. This will even spill over to benefit their emotional wellbeing.
Pillar 6: Emotional Wellbeing – Mental wellbeing has always been the top priority in endeavoring total wellbeing. And in the pandemic organizations have also realized it and started to employ devoted initiatives to it. But more grounds still need to be covered as to proactive approaches in this area.
Pillar 7: Purpose-Driven Wellbeing – Employees are becoming more and more driven to work with companies whose beliefs resonate with theirs. Thus they feel the fulfillment of a purpose and a bigger accomplishment. Therefore, the organizations that are aware of, aligned with, and actively participating in the latest cultural discussions and changes will be the first choice of the employees.
Employees in the pandemic have become more aware of what they need and don't hesitate to reach for it. The organizations and HR leaders have to be attuned to the latest employee and workplace trends to meet and win the challenge of employee hiring and retention.
Frequently Asked Questions on Employee Wellbeing Trends 2022:
What are some of the biggest workplace health and wellness issues in 2020 and 2021?
Mental Wellness Provisions : Organizations need to make proactive mental wellness provisions than reactive ones.
Employee Wellness Solutions: Wellness solutions should be tailored to the individual employee needs and not generalized for all.
Workplace Culture: Employees should feel relaxed and productive for better performance, not pressured and stressed in the workplace.
Work-life Balance: Work should not be encroaching the limits of employees' lives. A proper work-life balance will help employees to work with a clear mind.
Financial Wellness: Company should also help employees with the knowledge and awareness of managing their finances so that they can maneuver any emergency without crumbling.
Physical Wellness: Physical wellness should cover exercise, diet, and incorporating daily healthy habits.
Why is employee wellbeing the focus of today?
Better Employee Engagement
Better Productivity
Reduce cost caused by fluctuating attendance and attrition
Onboard employees not only physically but also emotionally
Attract top talents with healthy work-culture
What is an employee wellbeing strategy?
Communicate with them regularly
Listen to their changing mood and pulse
Ask them about their inconveniences in the company and their suggestions for improvement
Use those suggestions to make company work-culture better
Help them sail through their hard times and proactively intervene when necessary
Help them adapt healthy lifestyle
Invest into their emotional journey through the company
Treat them as comrades working towards the same goal
What affects employee well-being?
Career Growth: A visible progress in career help the employees to understand and appreciate their talent and skill building up their confidence .
Work-life Balance: To be able to manage work and personal life efficiently help them to have an accomplished feeling.
Work-culture: This is a salient piece of employee wellbeing that impacts the whole performance and retention of employees in a company.
Accommodating Managers: Experienced managers can understand employees and help them manage difficult conditions to make them feel cared for.
Cooperative Colleagues: Working in a team needs working symbiotically to generate the best outcome.
Engagement: If employees feel disengaged in their work and workplace, it will show in their declining productivity and disinterest to work in the company.
Enthusiasm: The enthusiasm related to their work along with working in the organization is important to get the best work from the employees
Inclusion: Employees should feel a part of the company and its objectives to be able to be invested in its work and growth.
Learning: Employees should always have an upward learning curve working in the company so they don't find themselves stuck in a plateau followed by disengagement from their roles.